Ion Radiant is the map editing tool for Daikatana.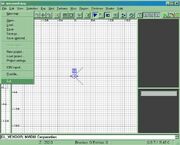 It is used for level creation and level design. It requires an Open-GL 3D accelerator. It is made for TNT (Twin Texel) -based cards and accelerators, such as the Riva TNT, and will not work or have difficulty running on other cards. It has support for custom textures.
More information can be found here.
Ad blocker interference detected!
Wikia is a free-to-use site that makes money from advertising. We have a modified experience for viewers using ad blockers

Wikia is not accessible if you've made further modifications. Remove the custom ad blocker rule(s) and the page will load as expected.