| Ice Boots | Era: 560 |
| --- | --- |
| Pickup Type: | Power Up |
| Bonus Provided: | Prevents sliding on ice |
| Apperance: | |
The Ice Boots were a cut item intended to appear in era 560.
When picked up, they would reduce how much you slid on ice, making it a lot easier to move around.
The item appears in the final version's files, but is unusable in game.
Pre-Alpha
Edit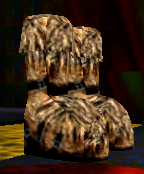 The Ice Boots had a different appearance in the pre-alpha. They appeared as regular fur boots, rather than the finals strange appearance.
Ad blocker interference detected!
Wikia is a free-to-use site that makes money from advertising. We have a modified experience for viewers using ad blockers

Wikia is not accessible if you've made further modifications. Remove the custom ad blocker rule(s) and the page will load as expected.